The German actor Martin Baden already appeared in several movies and TV shows. He also is a well-known voice for TV- and radio ads as well as a dubbing artist. He recently worked for oscar-winning director Florian Henckel von Donnersmarck and his new movie "work without author" (release in 2017).
Martin Baden shooting music video for the song "Aye Aye"
For earberries Martin played a marvelous sailor in the music video to the song "Aye Aye (Drowning)". The video was shot in beautiful Hamburg, using the port area as perfect setting for the song's water references and metaphors. The costume didn't cooperate too well with the spring breeze on set which – among other things – led to some funny bloopers.
Martin Baden singing for earberries
Martin Baden is known for working with his voice in professional commercials and TV spots. But hardly anyone knows that he is quite a good singer, too. He recently proved this by singing versions of the songs "Caroline" and the duet "Can't help learning" and added some depth to the sound. Here's a little audio sample of him singing:
Due to the spontaneous idea, one of the first rehearsals basically had to take place in a closet where we set up a little studio. Despite the lack of a professional setting the actor sang like a pro.
Successful cooperation with Martin Baden
Martin Baden turned out to be a great choice for the first earberries cooperation and it was fun working with him. The final results of the recording sessions can be found in our music library (vocals). We definitely think he could pursue a singing career and look forward to even more song projects with him.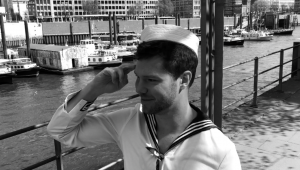 Thank you to literally have you on board with us, Martin!